Open SUNY Concierge Panel
Moderators: Michele Forte and Theresa Vamvalis
Panelists: Maureen Owens/FLCC, Karen Schuhle-Williams/Brockport, John Locke/Plattsburgh
Panel Presentation: The Open SUNY Online Student Concierge
---
Michele Forte is an assistant professor and mentor at SUNY Empire State College in the area of Community and Human Services. She is a licensed social worker and for twelve years was a social worker at the Epilepsy Foundation of NENY (Northeastern New York). Her doctoral degree from the University at Albany is interdisciplinary, with a focus on social welfare and women's studies. Her teaching background includes 12 years at SUNY Albany in Project Renaissance, an innovative freshman-year experience program. She was a member of a Lumina funded project team that developed the Global Learning Qualifications Framework (GLQF). Present work with Lumina involves building connections between diverse credentials and the development and testing of a national credentialing beta framework. She has co-developed four Coursera MOOCs, and a similar number of SUNY grant funded projects – including co-PI in the first Metaliteracy SUNY IITG (Innovative Instruction Technology Grant), was co-developer of the expanded Metaliteracy Learning Objectives, and co-presented and participated in the first metaliteracy connectivist MOOC. She is currently reassigned to SUNY system to hone student supports initiatives in distance education. Dr. Forte's interests include workplace embedded learning and mentoring, the alignment of industry and academic competencies and guidelines to guide degree creation, and investigating the connections between uses of social media and processing various stages in the grief/loss cycles.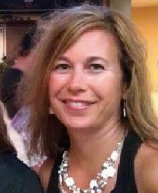 Theresa Carvalho-Vamvalis is an Academic Support Specialist at SUNY Empire State College. She designs, implements and oversees several online academic support programs and courses that focus on providing tutoring, coaching and skill development to online students, especially those at-risk; and training for prospective tutors and coaches. Additionally, she is a co-creator of a new student online program that supports the success of first year online students, and a co-instructor and designer of the Fundamentals of Peer tutoring online course.
She collaborated with the SUNY Empire State College Office of Alumni and Student Services to develop an online Alumni Coaching Program to further support and strengthen the new student online program for first year students. This particular program focuses on providing these students with an alumni coach who obtained a degree and resides in a career and/or field similar to the interest of the new online student.
In addition to her role as academic support specialist, she is an Open SUNY student support co-project manager, participant on a college-wide committee to identify a CRM to best meet SUNY Empire State College needs, and an on-going contributor to the college's webinar series for faculty on identifying and supporting struggling online students.
---
Concierge Panel:
Maureen Owens is the Student Support Specialist for Online Learning at Finger Lakes Community College, in Canandaigua, NY. She has held this position, also known as the "Learning Concierge," since 2011. Maureen serves as a single point of contact for all online students, as well as for campus-based students needing LMS assistance. She also provides Academic Advising to new and current online students. Additionally, Maureen has experience as an online instructor, teaching a course in Success Strategies for Online Learners, as well as English Composition courses. Maureen participated as a Learning Concierge in a Next Generation Learning Challenge Grant, aimed at piloting key interventions to a targeted at-risk population of online and hybrid learners. She currently participates in the Open SUNY monthly concierge meeting.
Karen Schuhle-Williams is the Executive Director of Special Sessions & Programs at SUNY Brockport, which encompasses SU/WI sessions, Online/Hybrid Learning, Off-campus, Transfer Articulation, and Adult Student Advocacy. She has worked in higher education administration for over 20 years, at two- and four-year colleges. Schuhle-Williams earned a Ph.D. from Syracuse University in Higher Education, a MS from The College at Brockport/SUNY, a BS from SUNY Cortland (where she also studied abroad in Germany), and an AAS from Rochester Institute of Technology. She attended the Harvard Graduate School of Education Management Development Program. She has served numerous community organizations.
John Locke is the Coordinator Technology Enhanced Learning at SUNY Plattsburgh. John Locke received his BA in Computer Graphic Design and a Master's in Arts and Liberal Studies with a focus on communication at SUNY Empire State College, where he worked part time as a tutor, and upon receiving his Master's degree, as a mentor teaching graphic design and communication courses. He spent a year at Ithaca College as a visiting professor teaching advertising and design before accepting a full-time position at Keuka College in the Finger Lakes region in Upstate New York. There, he developed and managed the college's office of distance education, and within 6 months, was offering 40 GenEd online courses to the college's adult population as a means to address credit deficits. In April, 2015, Locke accept an offer to work as SUNY Plattsburgh's Technology Enhanced Learning Unit Coordinator. Managing an incredibly skilled and talented staff, Locke coordinates the college's distance education initiatives, and helps faculty leverage technology in order to better meet their student's goals and outcomes. He is currently an online student and doctoral candidate in humanities and culture at Union Institute and University in Cincinnati, Ohio. His dissertation topic explores the politics of gender representation in post-colonial, Latin American utopian literature.